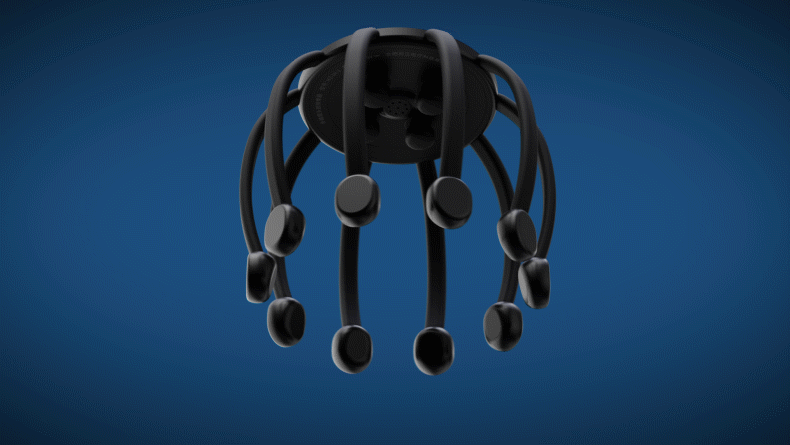 [Multi-Contact Vibration Massage Technology]
There are 14 massage contact points in total, each contact is independent with a vibration motor and touch the acupoint on your head. 4 are located on top of the head, and 10 are wrapped around the head 360 degrees.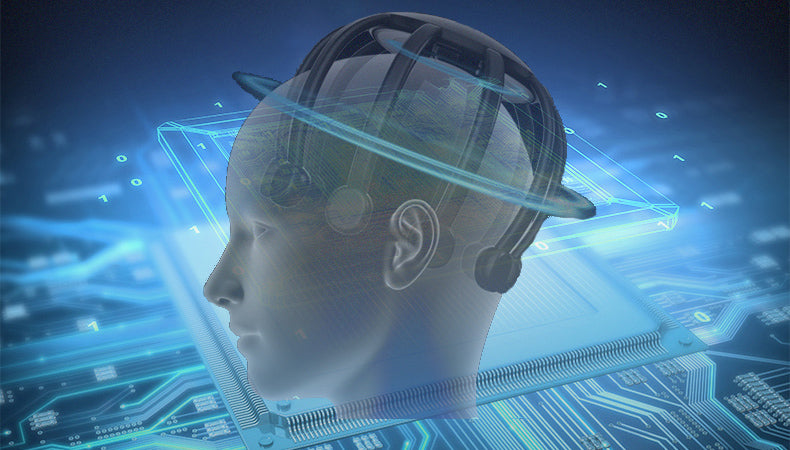 [TMS Massage Principal Controlled by IC Chip] 
IC chip is implanted with TMS matrix control algorithm, control all contact points to massage.  This stimulate the blood circulation, and gives you a thrill feeling, and a refreshing experience, "Enlightening Your Soul!"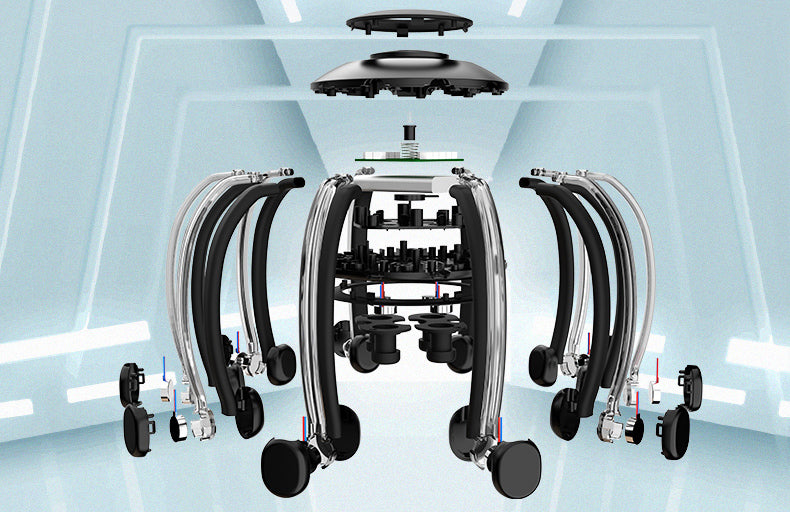 [Innovative Multiple Touching Design]
->Innovative muliple massage touching point
->360° omnidirection matrix distribution
->Intelligent IC matrix algorithm control
->Multiple Modes available to synchronized with brain waves.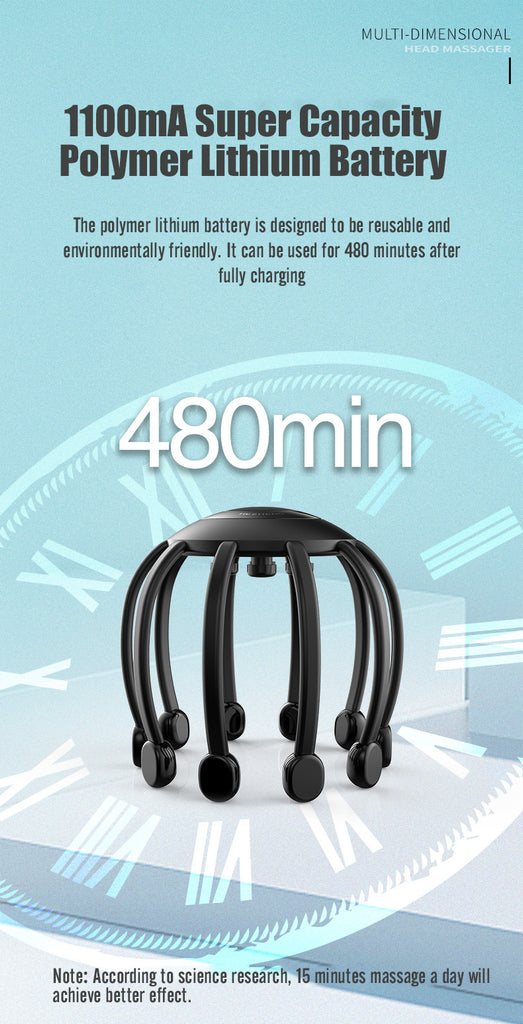 [1100mA Super Long Lasting Capacity]
The polymer lithium battery is designed to be reusable and environmentally friendly. It can keep working for 480 minutes after being fully charged.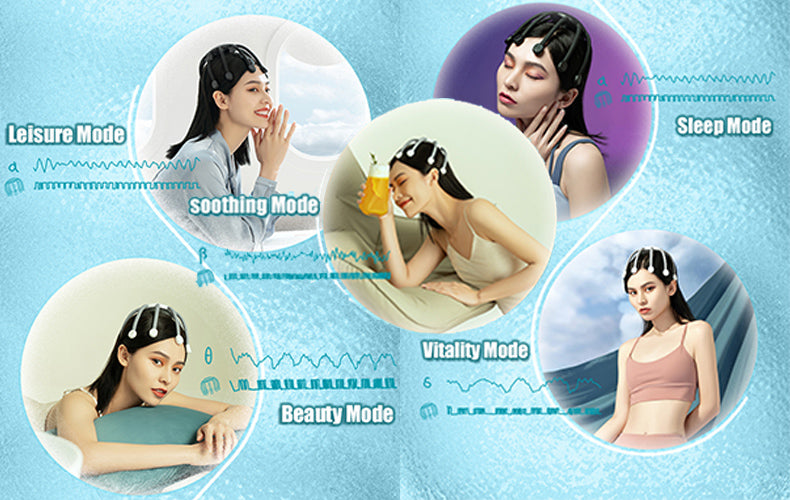 [5 Massage Modes Available]
There five massage modes available in total, working frequency under each mode is close to human brain wave in the scenarios. The five modes are: leisure mode, sleep mode, vitality mode, soothing mode, beauty mode.
[Benefits] 
This device stimulates blood circulation in brain, relax nerve system, and gives you a complete relax. It creates a refresh and thrill feeling on your brain, relieve dizziness, headache, numbness and discomfort after long time study and work,  so you can enjoy life everyday.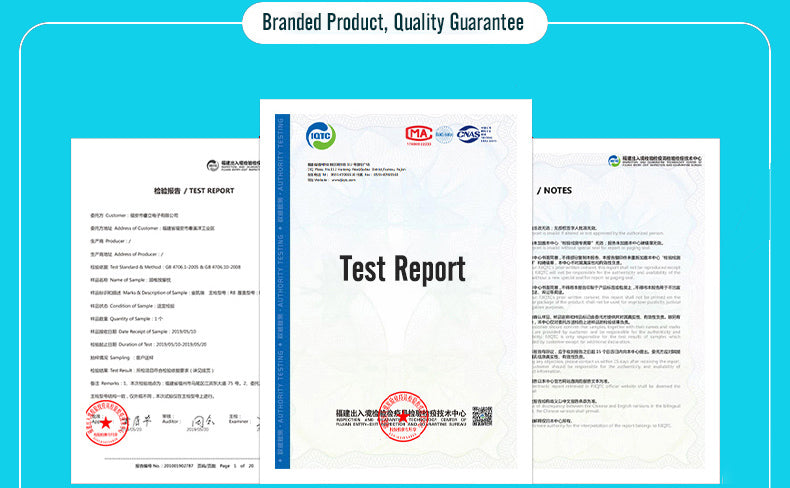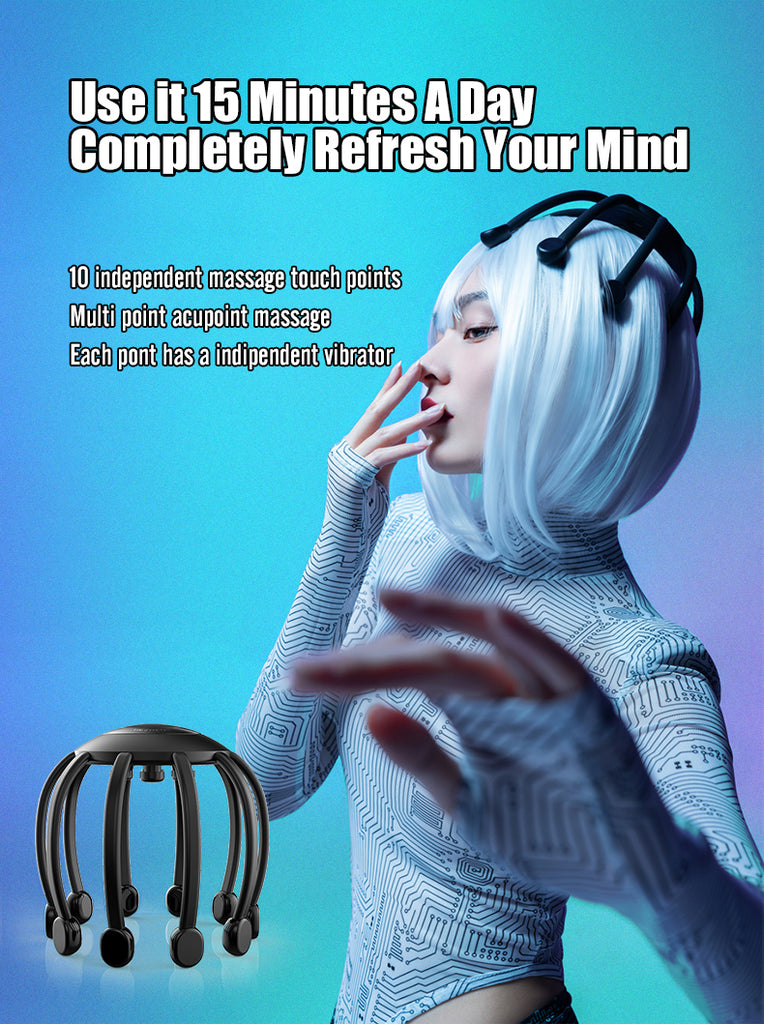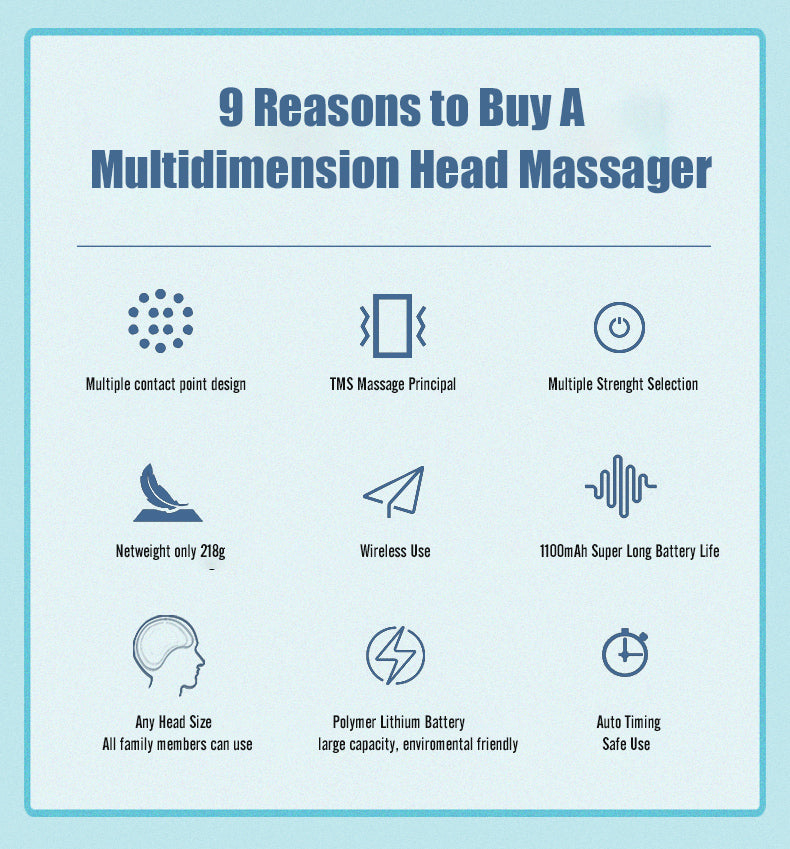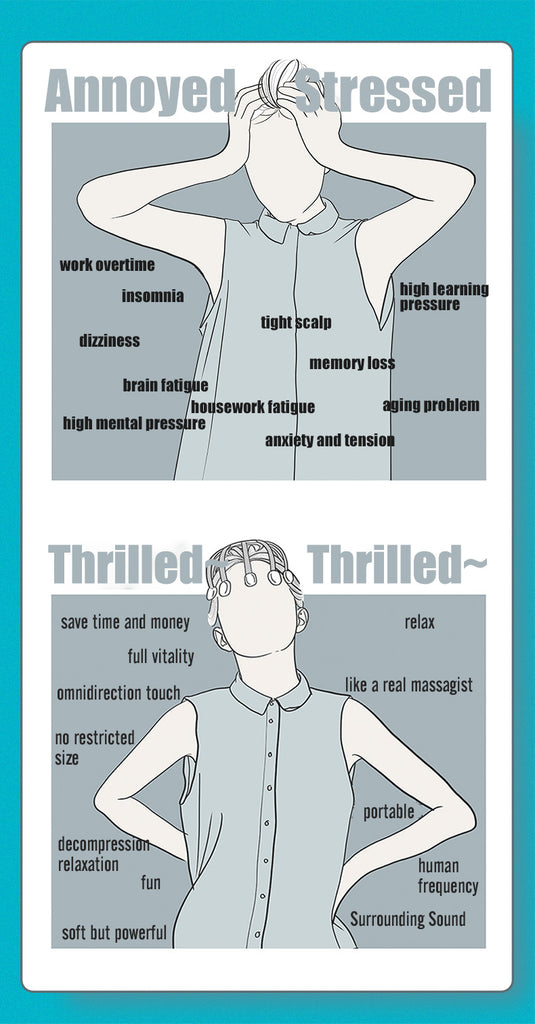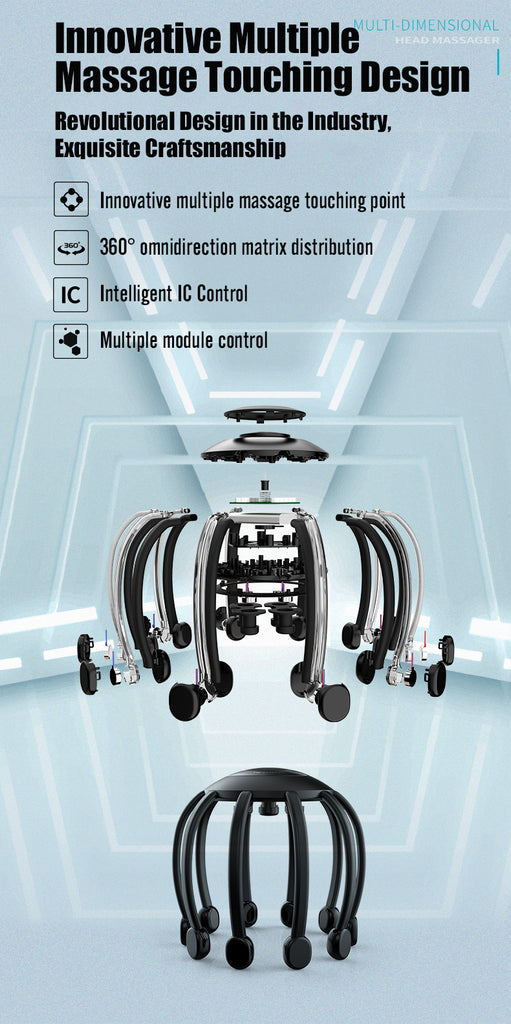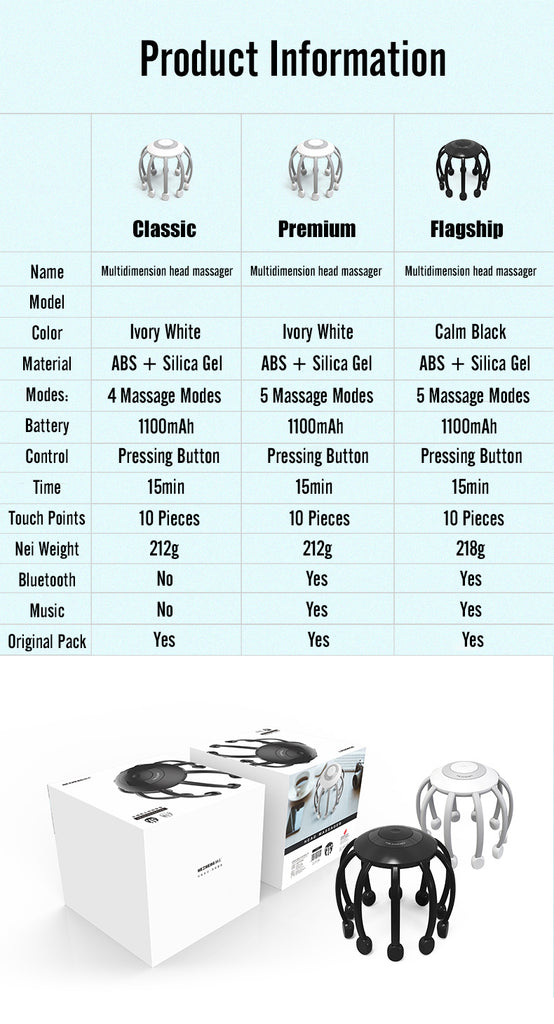 FAQ
    Q: The product has missing or broken part  when you receive?
    A: Please let us know which is missing, we will arrange resend
    Q: What can I do when purchase protection time is running out?
    A: If your purchase protection time is running out but still have not receive the package, please contact us to extend it.
    Q: The Refund Policy?
    A: We will arrange refund if your are not satisfied with your received good, free exchange, please make sure the original good is intact before sending back.
SHIPMENT
   All items will be checked carefully before shipment.We will pack and ship the parcel within 24 hours. ( There will be delay when holidays. )
    Tracking information is available within 1-2 days after shipment. We will ship the parcel via International Post. Usually, shipping time is 7-10 business days. If you can't receive your item, please feel free to contact us for help
SERVICE TIME
    London: From 2:00 am to 11:00 pm
    Moscow: From  4:00 pm to 13:00 pm
    New York: From 9:00 am to 18:00 pm